Apple Watch Ultra 49mm LTE Trail
You are here
Apple Watch Ultra 49mm LTE Trail
Apple Watch Ultra 49mm LTE Trail
Choose your storage and style here:
Pick your color
OVERVIEW
Приключението те очаква.
Безкомпромисни възможности в здрава конструкция. Ненадмината GPS точност в гъсто населени градски райони. Живот на батерията до 36 часа.◊ Три специализирани ленти за атлети и приключенци, които прекрачват границите. Всички функции, от които се нуждаете, за да сте здрави, сигурни и свързани.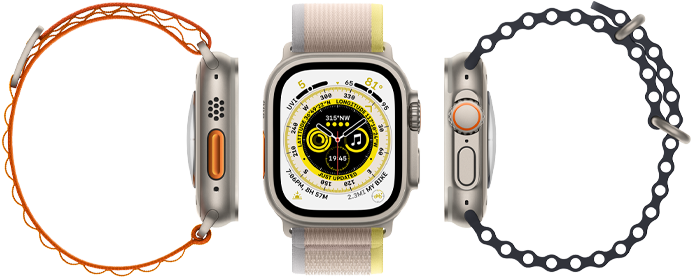 Дизайн
Пионер в дизайна
Здрава, но зашеметяваща конструкция, която се справя с природните стихии. Огромен Always-On Retina дисплей, който блести при тежки условия. Бутон за действие с възможност за персонализиране. Всеки детайл е изработен за невероятна производителност.
49mm
титанов корпус за здравина,
лекота и устойчивост на корозия.
2x
по-ярък дисплей от Серия 8
с до 2000 нита.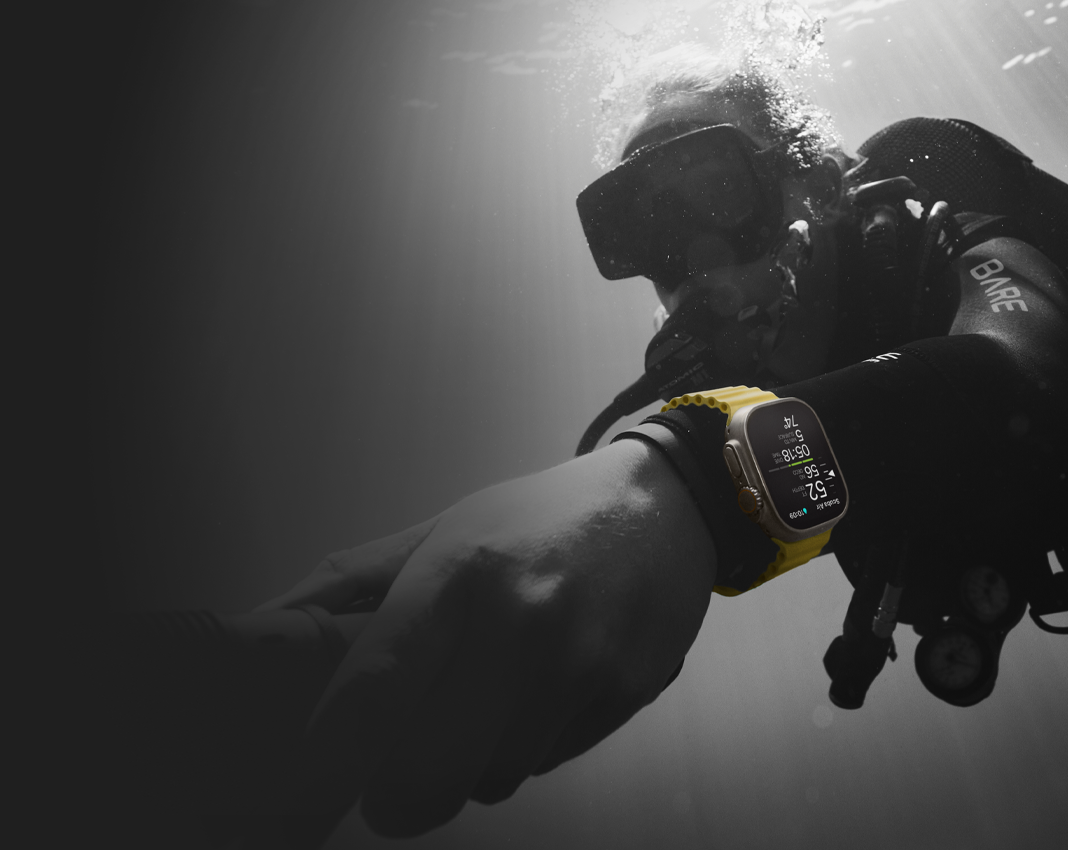 Океан
Иновативен,
дори и в морето.
Водоустойчивост до 100 метра. Сертифициран е за любителско гмуркане до 40 метра.◊ Манометър за дълбочина за ключови статистически данни с един поглед. Oceanic+, ексклузивно приложение, което работи като напълно функционален компютър за гмуркане.◊ Опакован с иновации, които достигат нови дълбочини.
EN13319 Сертификат
Международно признат стандарт за компютри
за гмуркане и измервателни уреди.
Ocean Band
Тръбна структура с невероятна
разтегливост и сигурност.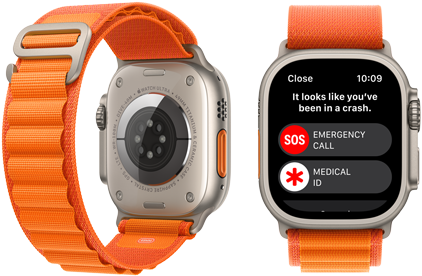 Здраве и Безопасност
Полезни данни.
Помощ, когато е важно.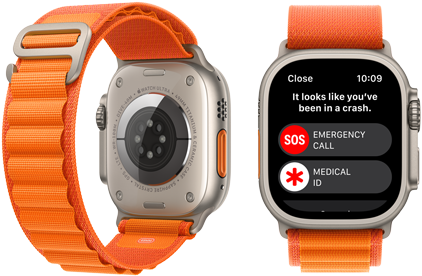 Температурни сензори◊
Проследява температурата ви, докато спите.◊
Установяване на сблъсък и падане
Открива тежки автомобилни катастрофи или тежки падания и може автоматично да ви свърже със службите за спешна помощ, ако не реагирате.◊
Усъвършенствани здравни сензори
Генерирайте ЕКГ, подобнo на едноканална електрокардиограма, с ЕКГ приложението.◊ Oтчитайте кислорода в кръвта си.◊
Клетъчна свързаност
Свободата на клетъчната връзка.
Моблната мрежа е вградена във всеки Apple Watch Ultra.◊ Предавай любимата си музика и подкасти.◊ Получавай указания с Карти. Или използвайте хиляди приложения, за да направите още повече.◊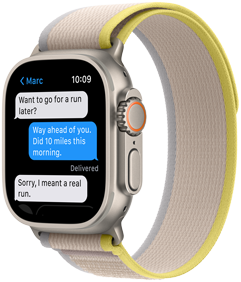 Защо Apple Watch
Това е най-доброто устройство за здравословен живот

Здраве и безопасност
Получи детайлни познания за
по-здравословни навици. Проследявай съня си.
Получавай бързо помощ при спешен случай.

Фитнес
Тренирай по нови начини с усъвършенствани показатели. Проследявай ежедневната си активност и любимите си тренировки.

Свързаност
Обаждай се, изпращай съобщения и слушай музика. Всичко това директно от китката ти.

Персонализация
Добави нова каишка, за да
промениш външния си вид.
Открий, персонализирай и споделяй циферблати на часовници.
PLANS
Plan
Monthly fee
Lease price
Price in cash
Total per month
View more
-

BGN/month

-
Price in cash, without subscription
TERMS
The lease of an accessory is provided under the following terms for additional leasing contract:
• You can take Additional leasing during the contract, if you are a current private customer of Yettel and have a postpaid plan for mobile voice services
• Only to a number for mobile voice service with limited ingoing and outgoing calls. The contract for this number should be concluded more than 30 days ago.
• No change of the postpaid plan or extension of the contract period is required.
• You can take only one smartphone or accessory upon the terms of additional leasing option.
• If you want to activate a new additional leasing you have to pay the remaining lease installments upon your current additional lease contract.