5G by Yettel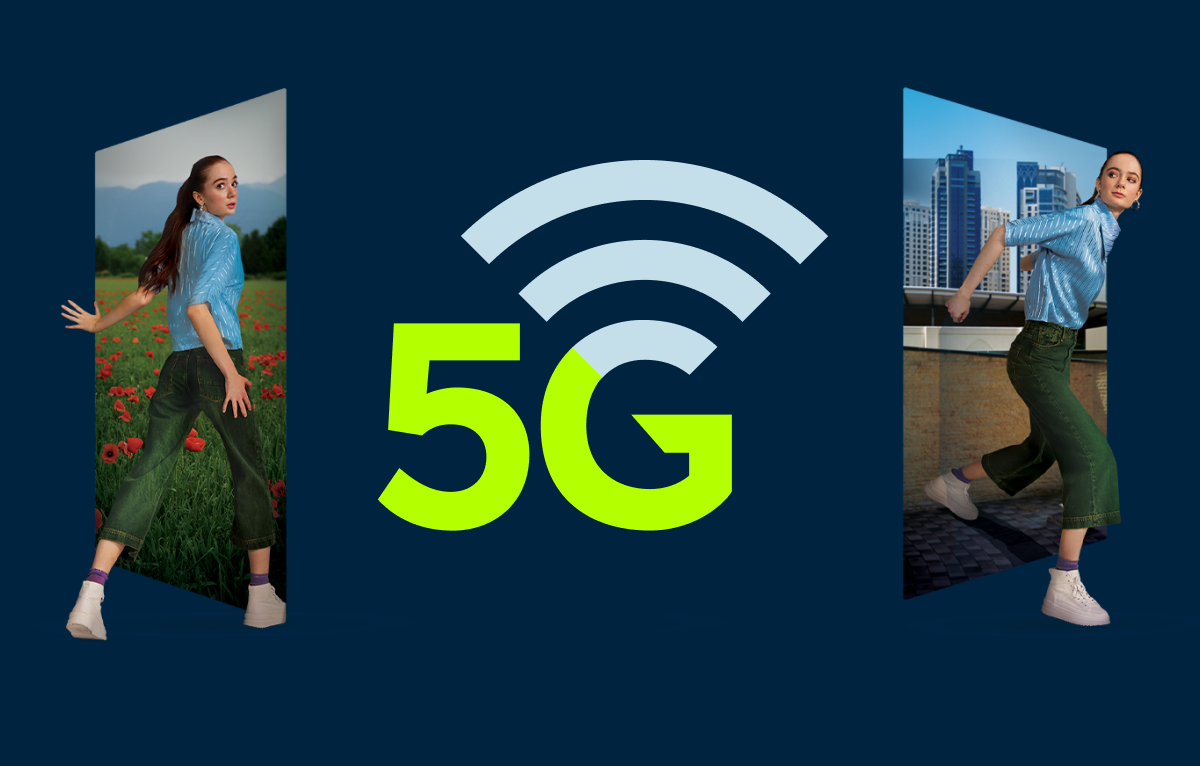 5G from Yettel
Our 5G network is now available to all our current and future users of subscription plans. Browse our diverse 5G portfolio of services.
Learn more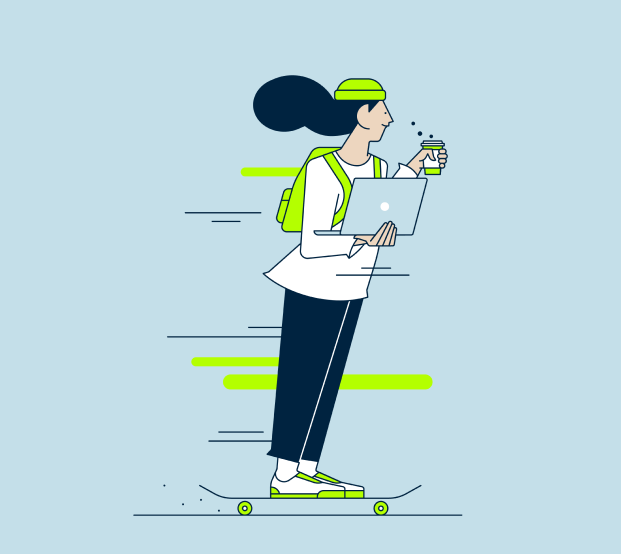 What is 5G?
5G is a revolutionary wireless network technology that is one of the fastest, most reliable and secure technologies ever seen. 5G will transform experiences with incredible speeds and performance, whether you're watching a film on the go, gaming online or on a video call. A 5G enabled world will help us to live better with instant connectivity to everything from entertainment and smart devices to important services such as healthcare and education.
Learn more
The benefits of 5G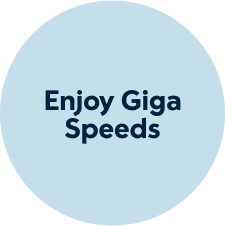 Download content, updates and apps in a blink of an eye.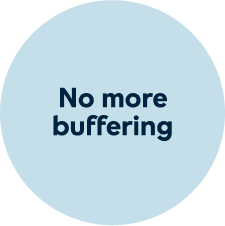 Seamless video gaming, VR and AR, mobile just got real.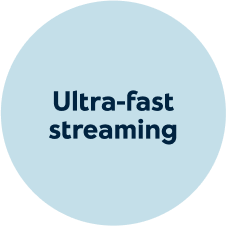 Stream 4K video and live sports with no buffering, wherever you are.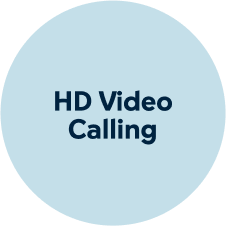 Enjoy uninterrupted, crystal clear HD video calls.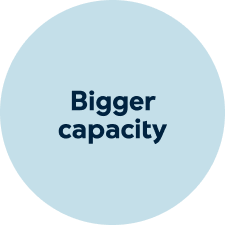 5G technology allows a higher number of devices to be connected at once.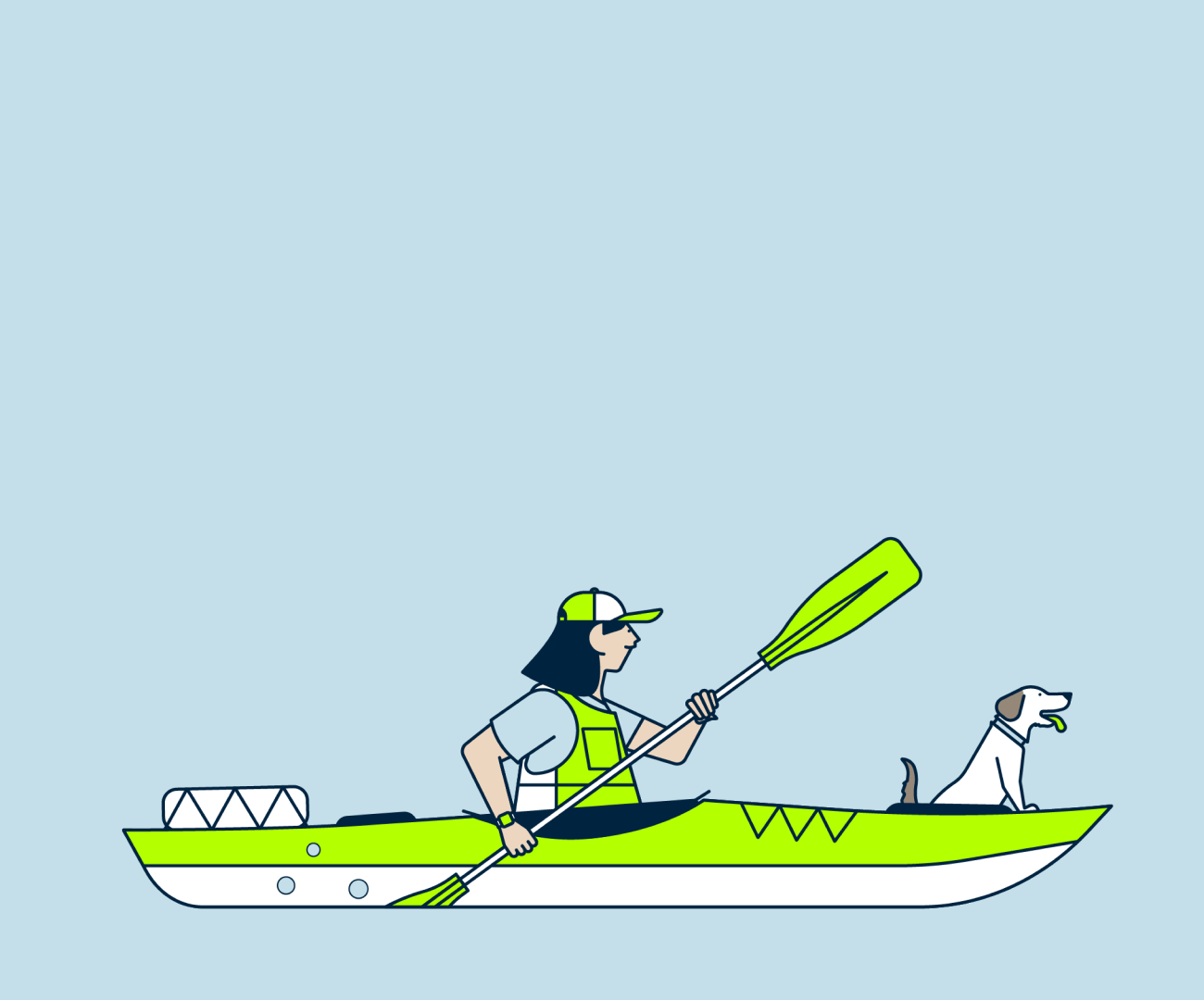 Our Network
For years we have been focused on providing better connectivity to as many people as possible through our first-class network. That is why we are constantly investing in its daily improvement. 5G is the next step and if we have learned anything, it is that this is just the beginning.
Learn more
Научи повече

Knowledge Hub
How 5G will change our lives? We answer those questions, and many more in our 5G Knowledge Hub.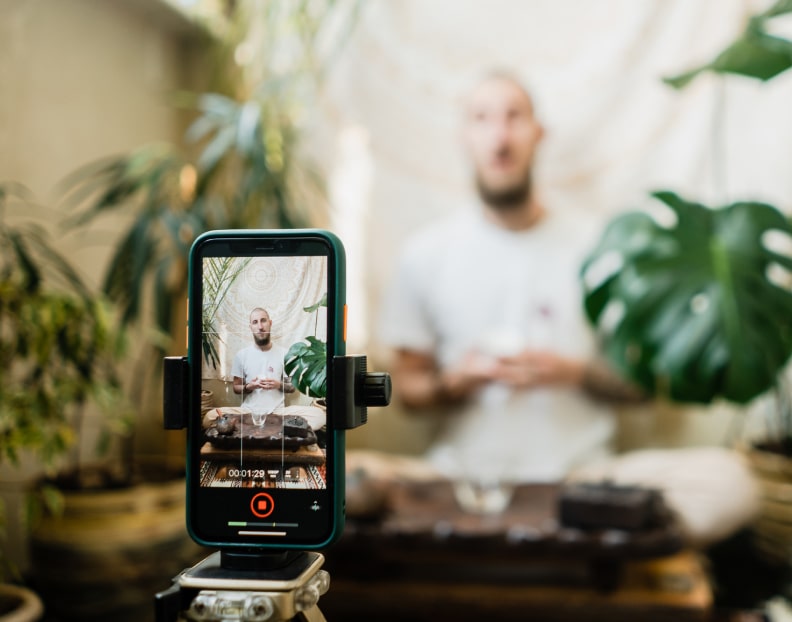 What is 5G?
Everything you need to know about 5G - how it works, the benefits, all your questions answered. View here.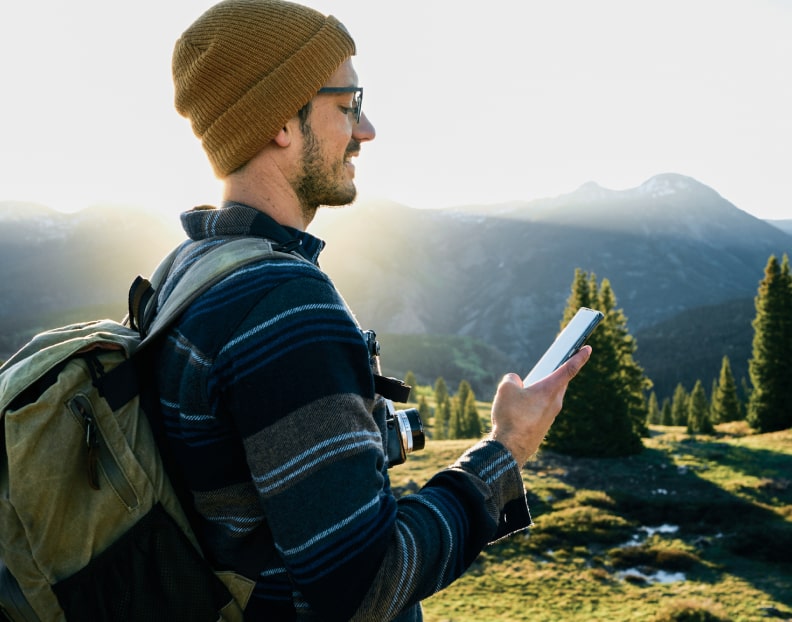 Benefits of 5G
5G promises device speeds around 10 times faster than 4G, meaning HD, ultra-high resolution video calls are now possible on the go.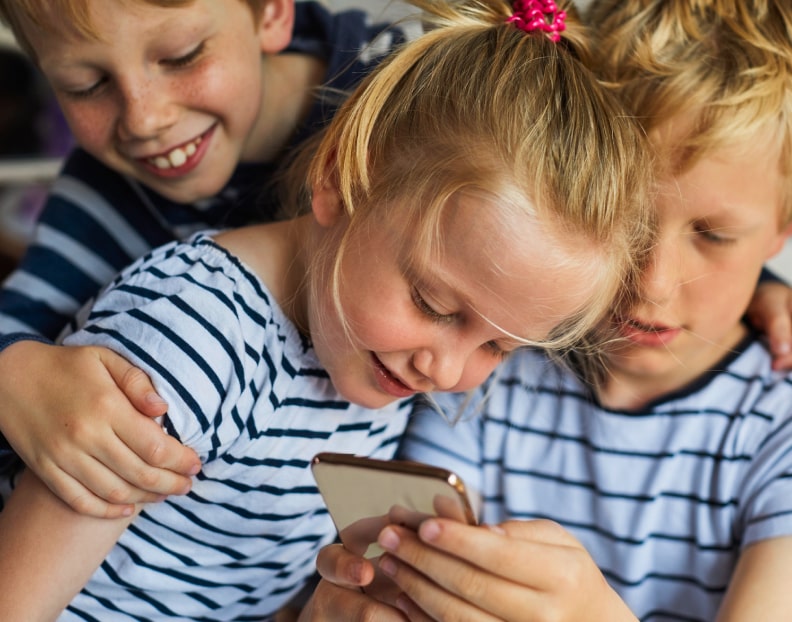 5G is safe
As with all our products and services 5G is completely safe to use.
TAB 1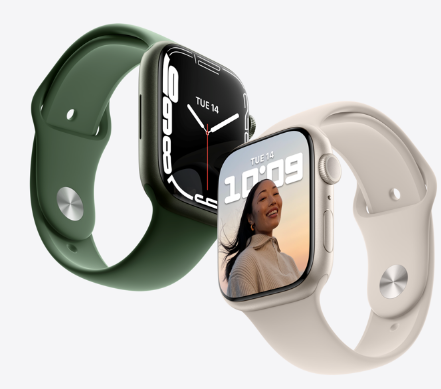 С цял екран
напред.
По-голям екран. По-висока издръжливост. По-бързо зареждане. С мощни функции като Blood Oxygen и ECG. За да си в още по-добра форма.
---
Дисплей
Голям екран.
Огромна
разлика.
По-големият екран и оптимизираният интерфейс те улесняват да виждаш и вършиш повече неща. Два нови ексклузивни циферблата. И всичко това - в изцяло преработен корпус.

Почти 20 процента по-голям екран и 40 процента по-тънка рамка от Apple Watch Series 6.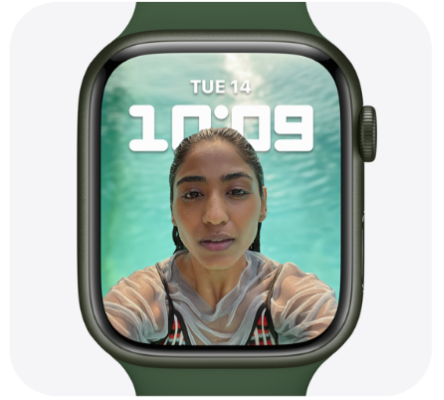 ---
Издръжливост
По-здрав
отвсякъде.
Свръхздраво предно стъкло. Сертифициран по IPX6 за устойчивост на прах. Защита при плуване в море или басейн с водоустойчивост WR50.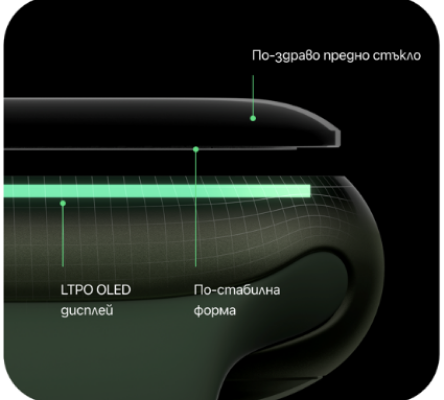 ---
Здраве
Бъдещето
на здравето
На цял екран.
Измервай нивата на кислорода в кръвта си. Направи си ЕКГ. Следи съня си. Остани в безопаност с Emergency SOS. Разпусни с Mindfulness.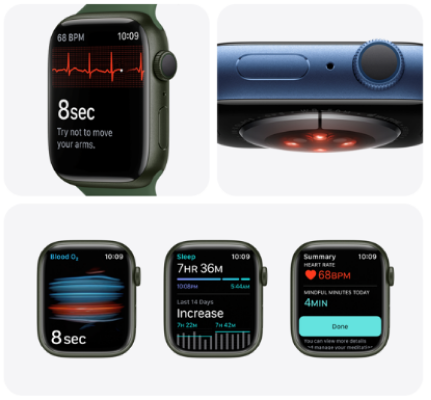 ---
Фитнес
Солидна
мотивация.
Проследявай активността си с Activity ринговете. Споделяй постижения и се състезавай с приятели.

Измервай и извличай максимума от тренировките. Независимо дали караш колело, тичаш, вдигаш или нещо друго.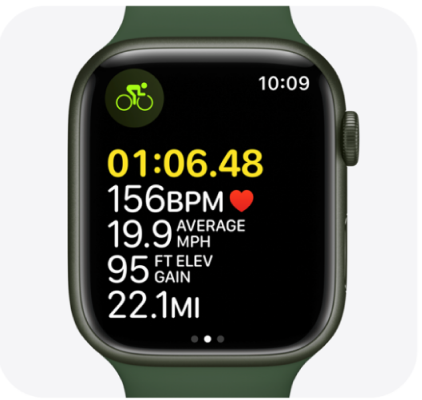 ---
Остани във връзка
Всичко, от което
се нуждаеш.
Навсякъде.
Обаждай се и пиши съобщения от китката. Ориентирай се с Maps. Ползвай Wallet за бордна карта или плащания. И избирай от хилядите приложения в App Store.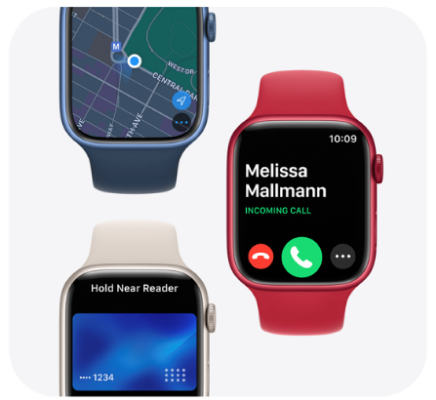 ---